So, how did you actually get in touch with the aspect of calling yourself an artist or making art?
I'VE ONCE READ A STORY OF THIS ARTIST. I OFTEN THINK OF IT AND WONDER ABOUT HIM, HE SEEMED SO SAD AND HAPPY AT THE SAME TIME. SO MOTIVATED BUT YET UNMOTIVATED AT TIMES. IT WAS VERY INTRIGUING TO ME THE OBSESSIVE COMPULSIVENESS OF HIS BEHAVIOR.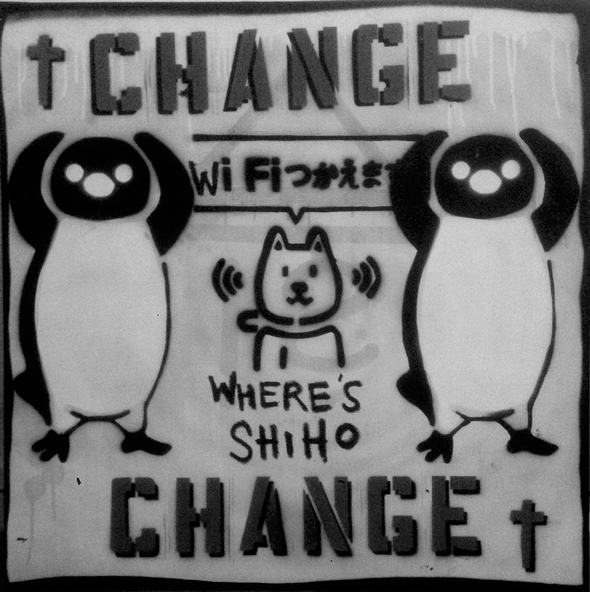 So, do you know him?
HE SPOKE OF HOW HE ONLY COULD BREATH EASY WHEN HE WAS PAINTING, WHEN HE HAD THE BRUSH IN HIS HAND. WHEN HE PUT THE BRUSH TO CANVAS. IT KEPT HIM CALM, IT MADE HIM WHOLE, PAINTING IS HIS LIFE LINE AND WILL BE THE DEATH OF HIM.
It sounds like you love him, do you love him still?
HE SAID HE WOULD OFTEN HAVE IMAGINARY CONVERSATIONS WITH PEOPLE THAT HE HAS NOT SEEN IN A LONG TIME WHILE HE PAINTED. HE WOULD SPEAK FOR THEM AND WONDER IF THIS IS HOW THE CONVERSATION WOULD GO. I IMAGINE THAT IM STILL IN LOVE WITH HIM...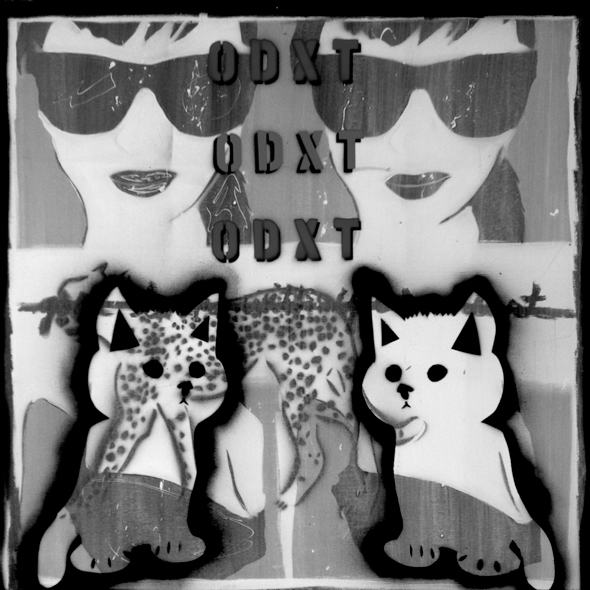 So, do you mean I'm imaginary, that's a quite disturbing way of looking at it?
IT MADE HIM HAPPY. IT MADE HIM WHOLE. IT HELPED HIM LIVE IN AN IMAGINARY WORLD WHERE HE FELT ACCEPTED BY HIMSELF.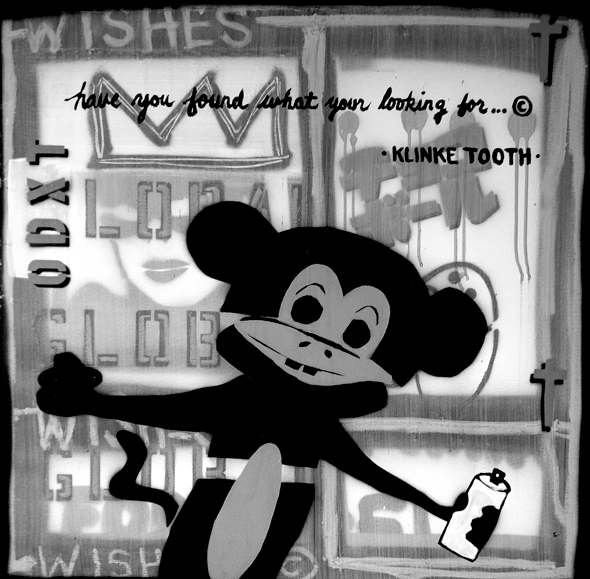 I respect that. Everyone does, even you.
HE WOULD OFTEN TALK OF A GIRL HE ONCE LOVED AND WONDER WHY SHE DIDNT LOVE HIM BACK. HE ALWAYS SEEMED TO GET WHAT HE WANTED.... BUT NOT HER. HE WOULD MAKE HIS FINEST PAINTINGS WHEN HE THOUGHT OF HER. HE WOULD BE HAPPY TO THINK OF HER BUT SAD SHE DIDNT FEEL THE SAME.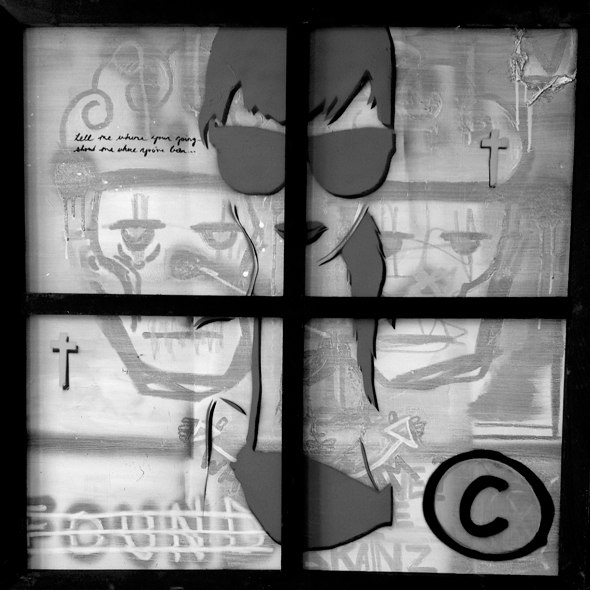 She always felt the same, it's just that she couldn't trust you.
HE WOULD THINK OF HIS PAST BACK IN THE USA BEFORE HE MOVED TO EUROPE. THINKING OF HOW CHAOTIC HIS LIFE WAS THERE AND ALL THE GREAT AND BAD PEOPLE HE LEFT BEHIND THERE. WONDERING WHAT THEY WERE UP TO NOW. WONDERING OF WHERE SHE WAS NOW AND WHAT SHE WAS DOING. HE WOULD PUT THE BRUSH TO CANVAS AND WORDS HE WOULD SPEAK TO HER WOULD APPEAR. HIS CONVERSATIONS HE WOULD WANT TO HAVE WITH HER WOULD APPEAR. THIS SOMETIMES WOULD MAKE HIM HAPPY.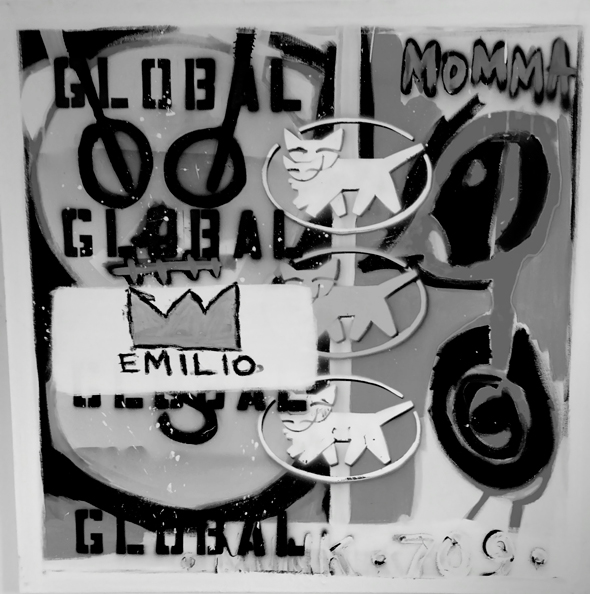 You take happiness seriously, you respect that.
THIS SOMETIMES WOULD MAKE HIM SAD.
HE WOULD THINK OF HIS TRAVELS AROUND THE WORLD AND EVERYTHING HE HAS SEEN. HE WOULD PUT THIS BRUSH TO CANVAS AND SOME OF THE ART AND CHARACTERS THAT HE HAD SEEN WOULD APPEAR IN HIS OWN INTERPRETATION, LIKE IN A DREAM SEQUENCE. HE OFTEN WOULD WHITE OUT THE ONES THAT FRIGHTENED HIM BUT WOULD NOT COVER THEM COMPLETELY TO LEAVE AND ERIE FIGURE THAT WOULD SCARE HIM A BIT. THIS MADE HIM FEEL ALIVE SOMEHOW. MAYBE SOMETIMES YOU HAVE TO FEEL AFRAID TO FEEL ALIVE? 
HE OFTEN QUESTIONED HIMSELF WHEN HE PAINTED ASKING HIMSELF IF HE WAS REALLY LIVING OR GOING THRU THE MOTIONS?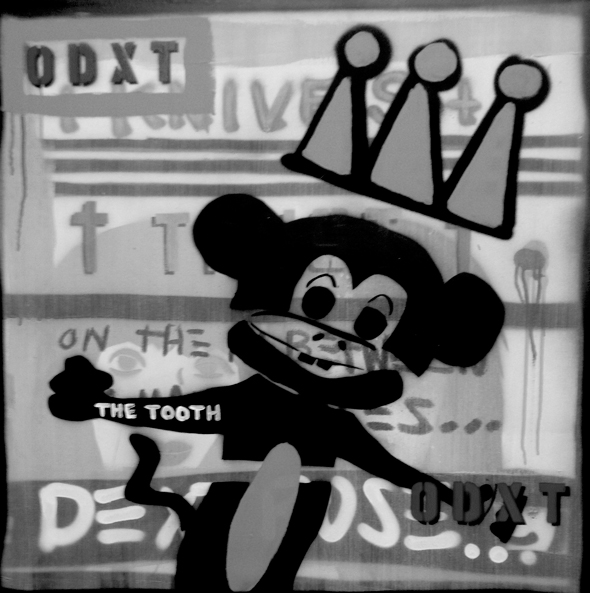 That's the answer of my question.
ANY TIME HE HAD THESE THOUGHTS HIS PAINTING BECAME VERY BLURY AND THE LINES WOULD BE VERY CROOKED…
But, in Berlin crooked is linear, no?
HE IS A PRODUCT OF HIS OWN ENVIRONMENT. WHAT HAS HE CREATED FOR HIMSELF HE THOUGHT...? AM I THE ONLY ONE CAUGHT UP IN THIS WORLD OF IN BETWEEN? HALF WAY SAD… HALF WAY HAPPY…
AS HE WOULD CLEAN HIS BRUSHES AND TURN OFF HIS STUDIO LIGHTS… ONE THING FOR SURE. THIS WILL BE THE LONGEST GOOD BYE EVER.
I wanna thank you for this interview Dean, let's acknowledge the fact that whoever is reading this should pay more attention to art, rather than looking for a interpretation of the mind of a life, feeling lost without a cure. The art of now, the acknowledgement of never being uncertain about the now, the life we live and the life we will never experience. Reader, see - not to be seen - the muse, death, life and inner fucking sexy. It's pop and it's art and we can not stand aside without constructive interpretation and criticism.